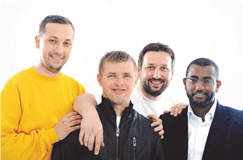 Healthy Males Needed
Pharmaron, in downtown Baltimore, is seeking volunteers to participate in a clinical study of an investigational drug. Be a healthy man, Age 18-65, BMI 18-35. Available for a 15 day/14 night inpatient stay followed 7 days later by a follow up phone call or outpatient visit. Eligible participants will be compensated up to 5,535 for their time and travel. Call 1-410-706-8833 or Email Baltimore.recruiter@pharmaron-us.com to see if you may qualify.
Volunteer/Patients
Find studies that meet your needs now
Digital Media Marketing and Multi-Site Study Recruitment.
According to the National Institutes of Health (NIH), more than 80% of clinical trials in the United States fail to meet their patient recruitment timelines. These delays increase costs, deplete resources, and prolong the time to market introduction. Patient recruitment is challenging as it involves multiple stakeholders, including patients…
Study Scavenger's recruitment experts come with decades of clinical trial, recruitment, marketing, and quality assurance experience. We offer customized, fixed budget, worry-free, result-oriented services for your trials. Each trial is assigned to a dedicated recruitment expert supported by a team of multi-dimensional social media marketers for end-to- end clinical trial support Study Scavenger's director of marketing is specialized in research analysis and is able to create research strategies that cost effectively target potential trial participants, family member and caregivers in North America and Globally.Study Scavenger's experienced team, works hard to develop persuasive dedicated study landing pages and portals that help drive trial interest to your centralized webpage or call center Underpinning all these solutions is the strength of Study Scavenger's technology team that helps to deliver rock solid solutions which
view more
integrate five different distribution channels inclusive of websites and smart phone application to provide advanced analytics for ROI performance visibility. Study Scavenger's digital marketing expertise differentiates us from our competition. We utilize advanced analytics and innovative tactics to deliver Study Scavenger's clients with the best cost effective strategies available in the industry. From a potential trial participant standpoint, we utilize advanced reach mechanisms and hashtag strategies to cost effectively provide trial visibility to relevant subjects and caregivers. Study Scavenger's centralized recruitment campaign efficiently communicates with patients and eases the recruitment process. This approach reduces the burden on clinical sites increasing participation. For more information contact us at
info@studyscavenger.com